October 13th Accounting Update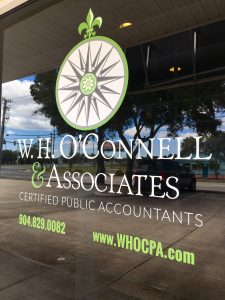 It's a busy week for our Accountants and staff:  The the final deadline to file individual (Form 1040) returns is this Thursday, October 15th.  Everyone who filed a 6 month extension must submit their 2014 federal income tax returns by midnight Thursday.
We do not always recommend waiting the full six months, but it is sometimes appropriate for clients who need the extra time to get the funds they need to pay their annual tax bill or are missing different tax forms and would rather extend versus amend.
Also, on another note, we are very excited that our all new signage has been completed for our office's exterior face-lift.  Thanks to our friends, Jennifer and Tom Reed of Avid Design Group, we look better than ever!  Make sure to check them out next time you are passing by or visiting our office.   Jennifer and Tom have been a tremendous help with our re-branding campaign and developing our first website.  Their passion for design and marketing make them a great team.  We would recommend them to any of our clients that have Graphic Design, Marketing and Web Development needs.
Check out their portfolio for yourself!
Stay updated with us,
The W. H. O'Connell & Associates Team